The impact of GDPR on the technology sector
From the 25th May 2018, companies that process data, regardless of size, will be held accountable for non-compliance with the regulation, with the responsibility shifting from the Data Controller (the company that collects personal identifiable information) to the Data Processor itself.
Cloud providers and data centre providers will have to adopt stricter security measures, standards and processes within their organisations to protect and handle customer data to ensure they remain compliant with GDPR.
In this article featured on the GDPR:REPORT news, Vicky Withey talks about the implications of GDPR across organisations and how organisations can prepare themselves such as implementing a GDPR legal framework and incident management policy to keep regulated.
Read the full article here.
Download our GDPR Booklet
---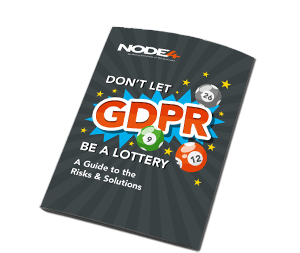 Node4 has identified a number of solutions and services that will enhance your organisation's protection of data such as N4Threat Detect, Colocation, DR, N4Protect+ and EndPoint Management, which will help you mitigate the risks within your business, keep regulated and protect you from potential fines under GDPR.
Download our GDPR guide to Risks & Solutions and find out what you need to consider in your organisation to secure your data in line with the 2018 GDPR regulations.