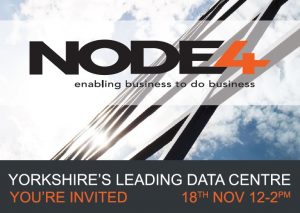 The Yorkshire business scene has received fresh impetus this year with the launch of the TechNorth project, aiming to unite digital companies across the North to compete with Silicon Valley and TechCity in London. Leeds University is also aspiring to be seen as the most enterprising university in the UK by accommodating 15-20 start-up companies. To compete against the leading regions, Yorkshire needs a strong local technology sector, which Node4 has been contributing to in the last decade with its state-of-the-art Data Centre based in Wakefield.
Andrew Gilbert, Managing Director, Node4 said: "As Yorkshire continues to thrive as a business hub, having a Data Centre to service the local economy provides an enviable infrastructure for growth. We have years of experience working with SMEs and start-ups and pride ourselves on our flexible approach to doing business. Technology is an enabler for development and we want to empower local companies to succeed."
Attendees were required to register with Node4 as its Data Centres operate a policy of high-security.