Node4 hosted a Master Class in partnership with the Parkway Motor Group at the AM Digital Dealer Conference 2014 on Thursday 4th September at The Heritage Motor Centre in Gaydon.
Sean Booth, Managing Director of Parkway Motor Group, participated in the Master Class, titled "Harnessing technology for reduced costs and improved customer service", to show how Parkway has derived cost efficiencies and streamlined its IT infrastructure.
With innovative use of telephony technologies Parkway Motor Group, which incorporates four Volkswagen dealerships across the Midlands, has been able to reduce the cost of its telephone communications by ridding the business of the traditional switchboard at each site whilst at the same time improving customer service. Booth will explain how investment in technology and partnering with IT company Node4 helped take his business to the next level.
Richard Buxton, Technical Manager, Node4, commented: "Node4 has been working with the automotive industry for the past 10 years and we have been able to provide solutions that enable our customers to have far greater control of their IT infrastructure. This control is crucial to enabling dealers to focus on their core business and drive growth, rather than wasting time worrying about IT. Our partnership with Parkway is a fantastic example of the benefits dealers can derive from the latest IT technology and the Master Class is a great opportunity to show the industry how they too can make the most of their IT assets."
Node4's solutions include services that empower agents at the company's contact centre to have at-a-glance information of call volumes and how quickly they are answered, as well as the ability to chart the busy and quiet periods throughout the day, which then help them to better plan tasks assigned to members of staff to ensure productivity.
These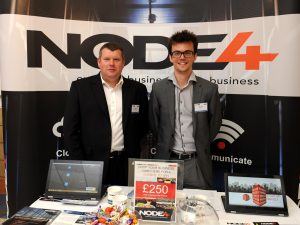 solutions also ensure that all types of contact arriving through different channels are queued and answered appropriately, and that agents have all the customer information they require at their fingertips.
This year's conference addressed the latest in digital innovation and explored how technology has revolutionised the way a sales consultant works, as well as the changing face of social media as channels such as Facebook reduces its organic reach as part of a wider advertising revenue drive.
For more detail see AM Digital Dealer webpages