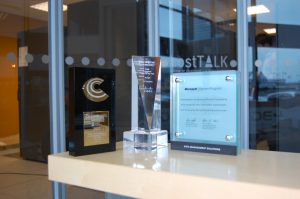 Data Centre specialists, Node4 are proud to announce they have been short listed in the prestigious 3rd annual Datacentre Leaders' Awards following a record number of entries. The judging process which is overseen by the British Computer Society includes specialist judges from organisations including Morgan Stanley, HP, Norland, C-Net, Dell, and APC.
The company are down to the final 4 entries in the Innovation in the Medium Data Centre category, which, as the name suggests, recognises excellent and innovative data centres. Node4's entry detailed the design and operation behind their latest data centre, DC3 in Wakefield.
Andrew Gilbert, Node4's Managing Director enthuses; "We are delighted to have been shortlisted for this industry leading award. It is testament to the hard work that we as a company have put in in line with our vision to be recognised as the data centre provider of choice in our target markets."
The annual awards are organised by DatacenterDynamics and winners will be announced at a gala ceremony at London's Lancaster Hotel on December 15th.