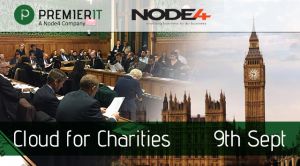 Node4 in association with Premier IT (corporate member of the Charity Finance Group - CFG) will host an informative evening FREE seminar specially developed for senior charity professionals at the Palace of Westminster on Wednesday 9th September 2015 at 6pm.
CEO's, Finance and IT Directors will gain a deeper understanding of how cloud computing can help the not-for-profit sector work in a more efficient way.
The FREE seminar entitled 'Charity Cloud Computing – long term forecast or storm in a tea cup?'
At the House of Commons from 6.00pm and will be followed by networking in the House of Lords where the attendees will have the opportunity to address all their questions to the speakers and network with their peers.
Experts will address different IT related topics including:
Opportunities that technology brings to charities
Data protection and supplier assurance for privacy/security
Cloud computing trends
Factors charities need to take into consideration before embarking on this journey
The British Institute of Radiology case study
Q&A
Speakers
How to book
Delegate places are limited and available on a first come first serve basis; please reserve a place early to avoid disappointment.
A maximum of two places per organisation are available.