Published 9th April. Updated 21st May.
In recent weeks we've seen the nation express huge admiration for the NHS and wider healthcare sector – and here at Node4, we feel the same way.
Healthcare staff are under immense pressure to test, diagnose and treat patients with coronavirus. Many are working overtime and are training up junior staff to overcome stretched resources, all while putting themselves at higher risk of infection.
Celebrating the NHS
Node4 staff have been showing their appreciation by joining in with Thursday night's Clap for our Carers campaign, applauding NHS staff and other key workers from their doorsteps. But we also want to show our support corporately, as a business.
So this Thursday, and on the Thursdays to come, we'll be turning our logo blue. At the same time, we'll donate funds to a hospital charity near one of our offices. We started off by donating to Royal Berks Charity, the Derby and Burton Hospitals charity, and MY Hospitals Charity which is the official charity partner of the Mid Yorkshire Hospitals NHS Trust. We then donated boxes full of treats to six different Community Nursing teams around Nottingham, and last week donated to Northamptonshire Health Charity, who support NHS hospitals and staff near our flagship datacentre.
After that we donated to the Manchester Foundation Trust Charity which supports hospitals around Manchester. This week we've donated a box of treats to the Pharmacy Unit at Bradford Royal Infirmary for their tireless work during the current situation.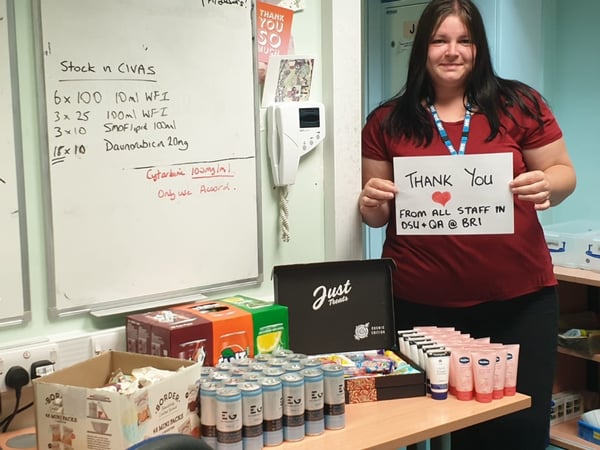 Supporting healthcare customers
Admittedly this is a small gesture in comparison to several of our customers who, as private healthcare providers, are offering up much needed resources to the NHS – hospitals, beds, staff and medical equipment.
Still, we're working behind the scenes to keep these customers' IT operations running effectively. Our own key workers have been on hand to help customers adjust to remote working and manage the surge in patient demand that they're experiencing on their systems.
It's a team effort, with some players taking on bigger roles than others - and we want to recognise this.
So keep a look out for our blue logo today and on future Thursdays. If you spot it on social media, give it a like, just to show your appreciation for UK healthcare.