Since we started over 16 years ago, so many things have changed. It's great to see how various members of our team have grown with us, and been part of our journey. This year, several team members celebrate their 10-year work anniversaries. To mark this impressive milestone, they look back on their experiences and tell us why they've stayed on for all these years…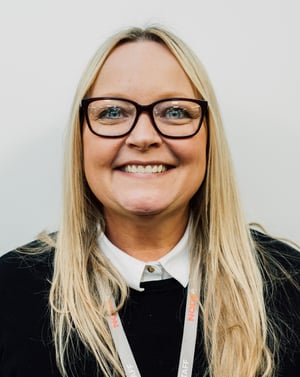 Debbie Dilly, Receptionist
Before I started at Node4, I was working front of house for an automotive glazing company. The company was going under and I'd already started looking for new positions.

Someone from Node4 came in to get his screen fixed and I noticed the logo on his top, at the same time remembering that they were advertising for a receptionist. We got chatting and the rest, as they say, is history.

I really enjoy my job, as I'm very much a people person. I chat to visitors, remember if their wife was ill, the name of their dog. Paying attention to those details is important in my position.

I'm very fortunate to work with a great bunch of people too. My colleagues have played a big part in me staying here for so long.

The thing that touched me most was the overwhelming care and compassion from my colleagues when my son had a major accident almost three years ago. I don't know how I would have managed without the support of my co-workers.

It's hard to pick just one fond memory, as there have been so many over the years. I love where I work and I'm often laughing. Anyone will tell you if they can't hear me laughing, they think I'm not in!


Outside the office

I love all things letter related and am proud owner of The Letter House.

After watching Formula 1 in Austin, Texas, I was in a bar and in came Nico Rosberg and sung karaoke – Living on a Prayer! Made my night!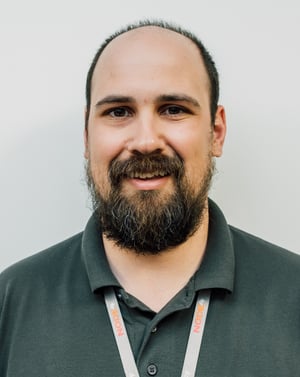 Alessandro Rizzo, Lead Network Infrastructure Engineer
I applied for a job at Node4 for my placement year at university, then stayed on part-time during my final year.

I'd been interested in networking from a young age. I used to go to LAN parties, where they rent out a load of rooms and set up desks with networking and power, so that hundreds of gamers can join in with social games and tournaments. After going for a few years, I got into staffing them, doing the networking and running cables.

My first day at Node4 was great. Being pretty geeky, I was really excited about doing hands-on work in the data centre.

I started as a Technical Support Engineer, providing first line support, then got into networks – first as Network Support, then Senior Network Engineer, then Lead Network Infrastructure Engineer.

More recently, I've focused on our internal network, working on all our office networks and our core network. The continuing change, investment and expansion at Node4 makes the work exciting. There's always more kit to install and capacity planning to do.

For me though, it's the people that make the difference. The atmosphere in the office, sitting with the Voice, Cloud and Support teams, is great. Many of the people here are not just my work colleagues, they're my friends.
Outside the office

I once had a 1v1 on Quake with Johnathan "FATAL1TY" Wendel. He won...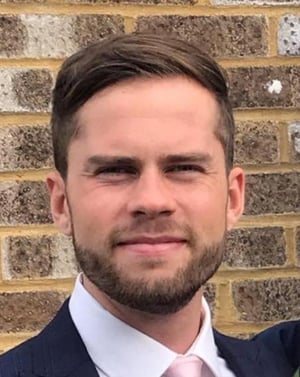 Jonny Slevin, Cloud & Applications Engineer
After completing an IT apprenticeship, I was ready to start looking for my first IT job.

It seems weird, as I'd never do this now, but I went around local offices handing out copies of my CV. I gave one copy into reception at LETN (a Reading-based IT company which would go on to become acquired by Node4). I was later invited to interview and received a job offer for a first line support role.

I was nervous on my first day because I was the youngest in the office by quite a way, and I'd spent all my working life in retail, so the office environment was completely different for me. Everyone was really welcoming though and willing to help me out, so I settled into the role quickly.

When Node4 acquired LETN, I wasn't sure what would be expected of me and how my role would change. But it soon became clear that the acquisition presented some opportunities, and that was quite exciting.

I moved into Cloud Support, and more recently, into the Cloud & Apps team. It's a move that I'm really proud of. I had no idea about cloud computing when I first started at LETN and it was great to be introduced to it an early stage and see the huge changes it brought across our customer base.

I've stayed on at Node4 because of the people I work with. Obviously there are days when it's busy and stressful and it's not as easy as you'd hope, but the people make it easier.



Outside the Office

I play bass in a band called Veridian. We've been gigging together for about five years and, for anyone wanting to listen, we have music on Spotify and YouTube.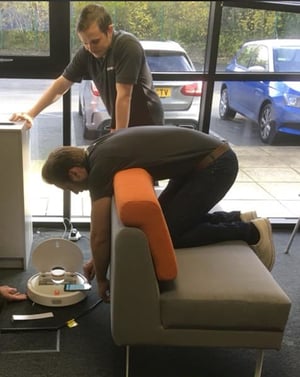 Simon Bell, Lead Core Network Architect
I studied computing at the University of Leeds and when I graduated it was into the 2009 recession.

I managed to get a desktop support role at the University, but my goal was always to get into networking. I did some research, came across a job advert for Node4 and it went from there.

The role I had when I first started was more of a service desk/data centre operations role. Because we were a small team, I got involved in all areas, from SIP troubleshooting to data centre ops.

Where I could, I took on more network-related tasks and gradually worked my way into networks, from Network Support Engineer, to Senior Network Engineer, to Core Network Architect, to my current role as Lead Core Network Architect.

It's a varied role, working on network strategy and design for customers' networks and our own. It tends to be the larger, more complex customer projects that I get involved in, anything that needs a lot of thinking about in terms of solution design.

This job is the only one I've had, apart from those few months at the University. Working at Node4 has defined my entire career, so everything I've done, everything I've learned, the way I look at things, has effectively come from my team and the wider business.

When I first came out of university, my goal was to become a Network Architect. I expected it to take a decade to progress to that level, but it took me just four years. I was fortunate to work for a business that is super ambitious, that matched my ambition.

I think that's what's kept me here really – the constant push to improve as a business, which has in turn pushed me to improve as a person.
Outside the office

If an activity involves snowboarding, go-karting or racing, I'm there!


What's it really like to work at Node4? Find out more on our careers page.