If you're seriously thinking about SD-WAN, there are a few key things you need to consider before jumping head-first into adoption. By taking carefully considered 'next steps', you'll ensure that you get your network transformation project right first time.


Here are my recommendations for businesses considering SD-WAN:
Be clear on the benefits
SD-WAN is a hot topic at the moment and we've seen a lot of UK businesses adopt it. Originally it was massive in North America. It's made its way over here as well, though not for the same reasons.

Often, you'll see cost mentioned as one of the reasons why SD-WAN is adopted, but here in the UK, it's more about the flexibility and the automation that it gives you. While there are several benefits to SD-WAN, the main one is the ability to control your network and integrate it with other services from one management platform.
Assess whether SD-WAN is right for your business
This is about understanding SD-WAN and the benefits it can bring, comparing it to solutions like MPLS, and taking a long, hard look at your business' current IT model.

We've seen a lot of businesses go on a journey where they've either accidentally or intentionally adopted cloud. They've spun up services in the cloud and they've adopted Software as a Service (SaaS) applications.

In many cases they're rethinking their network and security infrastructure, and considering whether it's suitable going forward with these new cloud and SaaS technologies. This leads to them overhauling WAN services using SD-WAN, bringing more consolidation and automation to their network.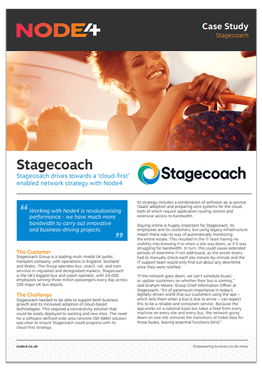 Stagecoach drives towards a 'cloud-first'
enabled network strategy with Node4
"Working with Node4 is revolutionising
performance - we have much more
bandwidth to carry out innovative
and business-driving projects." By Stagecoach
Think carefully about DIY SD-WAN

We've seen some businesses trying to deploy SD-WAN themselves. Make no mistake, it is quite a complex technology to implement.
There are a lot of things in your existing network that you'll need to audit and analyse, and you'll need to look at ways that you can overhaul your network to deploy everything in a very standardised manner.
You'll need to develop the configuration in templates, and make sure that those templates are accurate for deploying on to your network.
This may involve working with technology that you've not used before, which brings its own challenges, such as upskilling your teams and ensuring you have enough knowledge to get the most out of the technology.
DIY SD-WAN is not easy, which is why we're seeing a big emergence of network and security service providers bringing managed SD-WAN solutions to the marketplace.
Prioritise network security
If you've deployed SD-WAN, you may be looking at further solutions like SD-Branch, which enable you to bring wired and wireless under the same platform.
While you are looking at standardising your network, bringing in that wireless and wired networking, you should also be looking at how you can overlay that with a zero trust network access policy.
This means verifying every device that comes on to the network and ensuring that it meets your security policies and corporate IT policy. Make sure it's a sanctioned device, and only when you've made those validations, should you allow it onto the network. Once it's on the network, give it the minimum required access that the device needs, based on either its function or the function of the user.
You should also be monitoring on a real-time and ongoing basis, checking that devices are still acting as you expect and haven't changed in any way. Devices can be compromised at any time.

This is becoming critical for a lot of different sectors, for example, in retail, where customers have to be on business premises in order for that business to succeed. If wired and wireless networking is accessible to anyone and they have unrestricted access once they are connected, you're putting your business at significant risk.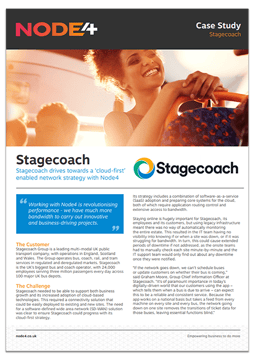 Stagecoach drives towards a 'cloud-first'
enabled network strategy with Node4
"Working with Node4 is revolutionising
performance - we have much more
bandwidth to carry out innovative
and business-driving projects." By Stagecoach