Case Study: Santa & the Elves Ltd drive Digital Transformation with Azure Hybrid Cloud
ORGANISATION: Santa & the Elves Ltd
SECTOR: Not for Profit
"Digital now spans across the entire organisation, impacting everything from research to customer engagement and internal culture. We've gone in with both boots pushing on with containerisation, AI and serverless projects. We've had a fantastic journey with N4Stack – paper cuts are down 99%, Elf morale is at an all-time high and the project has delivered an amazing Christmas spirit ROI." St Nic, CEO
The Challenge
Santa & the Elves Ltd were experiencing major issues with the operational infrastructure. Originally CEO Nic reached out by accident after attempting a web search for "4 New Sacks" and the lead came in via the n4stack.io website. After an initial confusing conversation, we struck up a strong rapport, got on to the topic of IT operations and Nic was very transparent around his issues. The main challenges he highlighted were:
Data
The core Snowforce CRM database was struggling for performance, one table having over 80 billion rows. The data model was having to support Geo-spatial data and there were some expensive queries impacting performance.
Snowforce had suffered a major data breach 2 years ago via an SQL injection attack by the state sponsored hacking group "The Grinch". There were also serious concerns around GDPR compliance due to the high levels of Personal Identifiable Information (PII) and no-one understood the use case around the "right to be forgotten".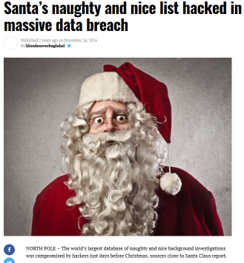 10 years ago, the organisation launched their "Elf on a Shelf" IOT project to reduce the amount of time Santa had to spend using his magic telescope. The concept, which was later copied by Amazon Alexa, was designed to ingest sensor data from the child's home and then undertake sentiment analysis to determine if they were naughty or nice. However, the organisation struggled to handle the non-structured data and gain any intelligence.
Also there was no Business Intelligence or reporting in place and in fact all employees relied on asking Santa for customer information (how to we get in Kevin's house?, what did Poppy want for Christmas? etc..). This is obviously a single point of failure.
Legacy Systems and Architecture
Apart from the Toy Making Machine many other systems were a 100% manual process. The biggest issue was that all clients submitted requests via a paper format, which Santa read and passed on to the Elves. This caused a huge efficiency bottle neck.
The majority of internal systems driving operations were legacy, verging on prehistoric. The lack of patches and maintenance over centuries posed a huge security risk and the operational overhead was immense for Elf ICT to manage.
The organisations business was seasonal. They had a unique pattern that meant all orders for their billions of global customers needed to be delivered in one evening in the year (25th December). This put a huge demand on supply chain, Rudolph's Route Planner and Santa Tracker applications.
The impact to working with this legacy environment had meant staff morale was at an all-time low. The Head Elf had recently left to join the Tooth Fairy heading up their DevOps team and Nic was seriously concerned about losing more staff.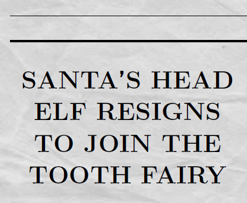 Moving forwards Nic had recognised the need to embrace technology and provide his customers with a digital experience.
The Solution
To meet its Digital Transformation agenda Node4 delivered a hybrid cloud environment using Microsoft Azure. The project was split into 2 modes; "Sustain & Evolve" designed to address the immediate stability issues and "Digital Transformation" which leveraged the Azure platform for new services.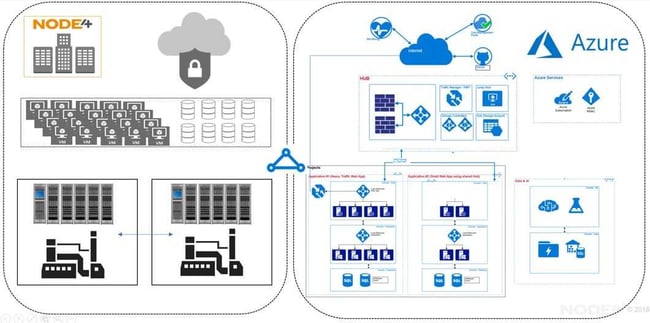 Sustain & Evolve
"The Elf development team are 440x faster from commit to deploy thanks to N4Stack DevOps" Alabaster Snowball, DevOps Engineer
Digital Transformation
After much discussion around the Public Cloud choices Santa opted for Microsoft Azure mainly based on his concerns that Amazon may be seen as a competitor.

The Future Vision
Santa and his Elves Ltd are now looking to leverage more AI Services going forwards. Using Deep Learning they are aiming to predict gift requirements ahead of the seasonal rush and operate a real time 360 degree customer experience using inflight analytics when its customers are engaged on its digital platforms.