People often talk about the risk of change, but not so much about the risk of doing nothing, which can be more severe. At a time when the competitive landscape across many sectors is increasingly aggressive, it is arguably more important than ever to innovate and disrupt traditional models.

Technology is a great enabler of this, and as you pull ahead, those that do not embrace technology and innovate will fall behind.

The flexibility and agility gained from a well thought out technology strategy can develop or maintain competitive advantages, enable you to quickly capitalise on new market opportunities and be prepared for unforeseen events.
COVID-19: the right time to innovate?
Consider the current situation, where many businesses have had to adapt at speed to continue operating through the COVID-19 pandemic.
Widespread remote working was unusual and needed to be implemented or ramped up quickly. Others had to rapidly expand their digital storefront to support an influx of online transactions.
Initially, customers were sympathetic to the situation. But how frustrating is it now to hear, "we are sorry for the wait/delay/reduced service, caused by the COVID-19 pandemic"?
It is expected that businesses pivot quickly and adapt to new challenges, with minimal detriment to the customer experience.
By embracing new technology and change, you can be agile enough to absorb market and operational dynamics. You can enable your employees to work from anywhere, using highly resilient systems and delivering a consistently great customer experience, protecting your brand reputation and providing real business continuity.
How to ensure your infrastructure is fit for the future
At a time of less economic activity, you have the opportunity to assess whether your current IT infrastructure is fit for purpose, including any technology implemented in haste to get through the first lockdown.
A few pointers for conducting your assessment:
Revisit your strategy
Are you well-positioned to meet your strategic objectives in this new landscape, and kickstart your business recovery as the economy turns back to growth? Consider whether adopting a diversified cloud strategy, such as a hybrid model, could minimise the impact of single provider failure and regulatory changes while unlocking a new age of flexibility and scalability for your IT systems.
Identify your weak areas
Complete a gap analysis and sure up systems that were deployed without the usual consideration.
Ensure communication lines are open
Implement collaboration tools to keep your employees feeling connected, and make it easy for your customers to interact with your business by their preferred method.
Examine your network
Ask yourself whether your network will support your strategic initiatives. Join all these dots by moving to a dynamic and optimised network with security at the core, such as SD-WAN.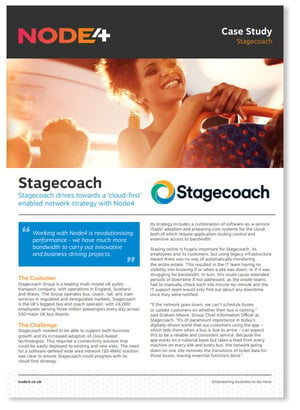 Case study: See how we helped Stagecoach with their cloud-first and digital transformation strategy.
Stagecoach needed to be able to support both business growth and its increased adoption of cloud-based technologies. This required a connectivity solution that could be easily deployed to existing and new sites. The need
for a software-defined wide area network (SD-WAN) solution was clear to ensure Stagecoach could progress with its cloud-first strategy.
Challenges ahead for businesses
At the time of writing, another round of lockdowns are being implemented across the UK. Restrictions on our daily lives are going to be here for some time. This is the immediate challenge, but what will the next seismic event be?
We have the Brexit transition period ending soon, at which point we will hopefully have new arrangements in place, but this is likely to bring changes to legislation and foreign trade.
Younger generations are increasingly expecting to work flexibly, for employers with a strong focus on their corporate and social responsibilities, all while having less loyalty to employers.
Recent announcements indicate that organisations may need to declare sources of materials, which may impact supply chains.
People's spending habits have changed. Data storage and processing may change again. Globalisation, the erosion of biodiversity and climate change are continuing at pace. Now is the time to re-assess your IT strategy.
At Node4, we are working hard to consult with businesses and deliver technology solutions that prepare them for all eventualities.
By widening your strategic vision and investing more in technology and digital transformation now, you can de-risk your business against future challenges. This way you prepare not only for the new or next normal, but all future normals.
Case study: See how we helped Stagecoach with their cloud-first and digital transformation strategy.