For many within our partner community, events have been the go-to for building relationships with their customer base, as well as communicating a consistent message in a memorable way.

In this blog post we'll be taking a look at how the events landscape has changed over the last year and offers some thoughts on how we approach events in a post-lockdown world.
Are we post-covid or post-lockdown?
Yesterday's Government announcement that England is officially entering step four on the 19th July was a momentous day for everyone, not to mention the event industry. After 16 months of chasing dates around the calendar or moving things online, 'freedom day', as we have now come to know it, will finally be here.
Guidelines will permit any event to go ahead with no legal limits on social contact and face-masks, although advised, now just personal preference.
But while brides-to-be cry happy tears and festival organisers jump with joy, the truth is, on the 19th July, Covid won't magically vanish.
With pockets of the population still not fully vaccinated and transmission still prevalent, when planning an event for your customers, you might still want to consider the welfare of your staff, delegates and even your brand. Regardless of the fact that restrictions have lifted, an outbreak associated with your business could be detrimental to your workforce, as well as your reputation.
As an event organiser, being mindful of the measures we've grown accustomed to should help you sleep a bit better at night! Although it won't be a legal requirement, you may still want to consider keeping social distancing in place, asking your attendees to provide a negative test result before attending, or simply checking that the venue has adequate ventilation, just to give you added peace of mind you've taken steps to mitigate any impact.
So what does the future look like for events in the Channel?
If the past 16 months has taught us anything, it's that we certainly can't predict what's around the next corner, so we're going to have to learn to be nimble.
While we can't tell you exactly how the future looks, a great place to start is to ask your audience. Customer relationships are always important to nurture, so why not drop them a short survey or personal email asking how comfortable they feel and the kinds of event they would be willing to attend?
Surveys we've conducted show that the vast majority are keen to meet in person again. They've had enough of staring at a tiny screen and are desperate to leave the four walls they've been confined to. However, every business is different and across our partner community, we're already seeing varying approaches. Some are embracing the relaxation and ploughing into corporate hospitality, whereas others feel more confident remaining online for now.
While you can't recreate that networking buzz on Zoom, virtual events do still have their advantages. Firstly, there's no travel time (or cost!) to consider. And, depending on the platform you use, you can usually accommodate more people. If you take a reduction in venue capacity into consideration, you're likely going to have to consider restricting numbers to a physical event, whereas online, there are no restrictions.
Or, if you're struggling to decide, why not combine the two? Many venues also now offer hybrid packages where your content is broadcast online, giving those who don't feel ready to attend the opportunity to hear what you have to say. You will, however, need to consider keeping them engaged - for example, if your physical attendees are having a debate over a coffee with an assortment of freshly baked goods, what experience will the person logged in online be having?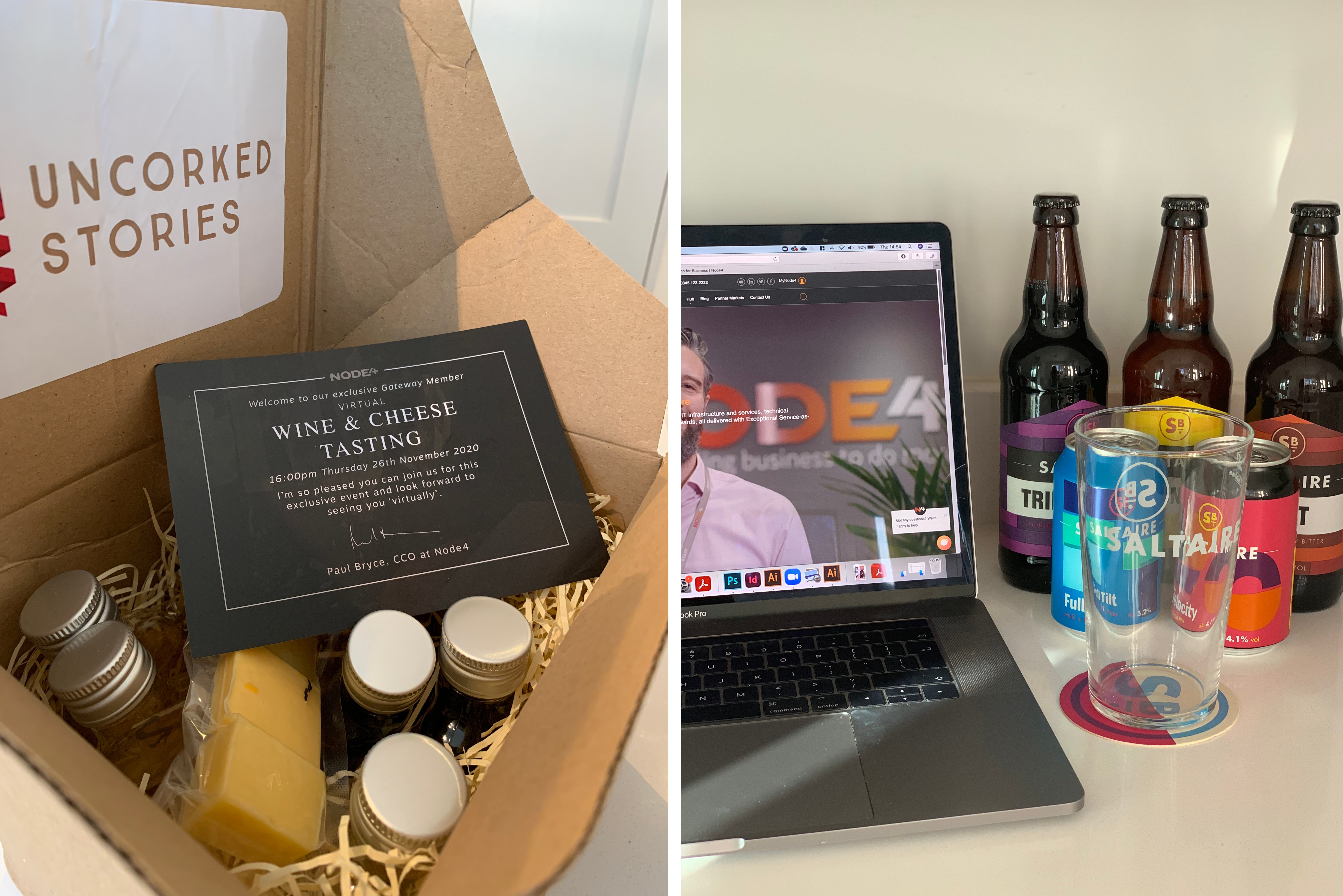 Events with Node4
Innovation is one of our core values at Node4, and over the last year, we've continued to work with our partner community to deliver innovative, co-hosted virtual events. Whether through assisting with the platform, the content, the keynote speaker, or the delegate experience, we've seen long-term opportunities for our channel partners open up through leveraging the benefits that virtual events have to offer - one example generating £180,000 of pipeline from a £600 initial outlay. We're looking forward to seeing this continue as we move through to physical and hybrid events.
There are so many things to consider when planning your future event strategy, but above all, don't stop. Keep engaging with your customers, keep being innovative in your approach and be willing to try new things. We've seen great success in helping our partners try new formats for events, and our team of marketing experts is open as an extension of yours.
Events are just one way in which we can support you with joint marketing initiatives. Download our Marketing as a Service brochure to learn more about how we can help you tell your customers your story.
If you want to run an event for your customers and aren't sure where to start, get in touch with your account manager today and ask us about co-hosted events.