We look back on a year that was anything but forgettable…
January: New Year, new business unit
Responding to increased demand for Unified Communications solutions, we launched N4Engage, our business unit dedicated to all things collaboration. We saw the market potential, yet no one could have predicted how big that market potential would become…
February: Node4 in just under two minutes
Focusing on what makes Node4 great, we launched our sub-two-minute company video. It became the perfect intro for prospects, customers, partners, suppliers – in fact, anyone curious about who we are.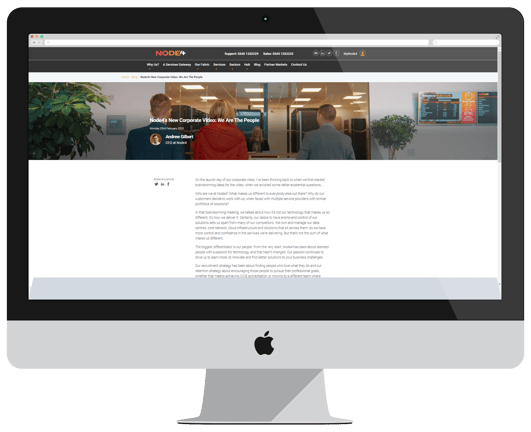 March: Joining the nation in lockdown
Remember that first lockdown? Exercise once a day, supermarkets stripped bare of loo roll, everyone working remotely? Thanks to N4Engage's collaboration tools, it was a relatively smooth adjustment, and we kept spirits up by accessorising workstations, sharing photos of pets and plenty of quizzes.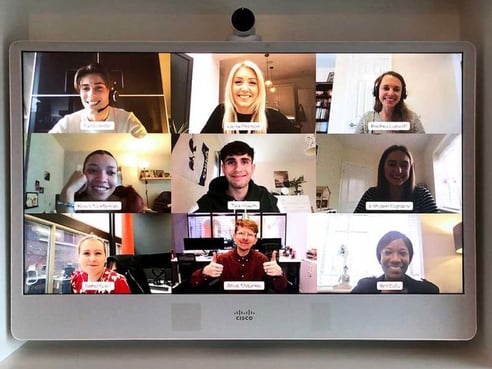 April: We turned blue!
To show our appreciation for the NHS, we turned our logo blue every Thursday and donated to several hospital charities near our offices. As time went on, we took suggestions from staff – donating gift boxes to healthcare workers and other frontline teams fighting Covid-19.

May: Azure Service Tiles hit the shelves
N4Stack launched Azure Service Tiles, a service portfolio aligned to Azure and Microsoft's Cloud Adoption Framework. The portfolio includes a range of consulting packages and managed services designed to help customers take a best practice approach to public cloud adoption.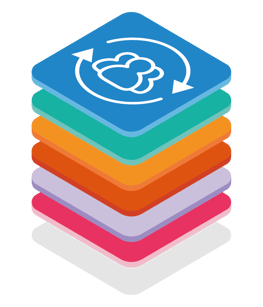 June: Stepping up operational efficiency
Covid didn't stop us from investing in new systems and improving the way we work. In June, we launched SAP Business By Design, to automate processes that had previously been time-consuming and enable teams to work in more integrated ways. Credit to the project team who managed to co-ordinate much of the launch remotely!
July: Stagecoach shared their success story
We've racked up an impressive number of stories from happy customers, but one of our proudest moments was seeing Stagecoach's CIO Grahame Moore on the front cover of Intelligent CIO Europe. Inside, he talked about working with Node4 to implement Secure SD-WAN and progress a cloud-first enabled network strategy.

August: New features for Microsoft Teams
As we saw more and more businesses adopt Microsoft Teams, we also saw a new opportunity. By default, Teams does not have any capability to make and receive external calls. So, N4Engage launched Microsoft Teams Direct Routing, essentially providing 'SIP Trunks for Teams'.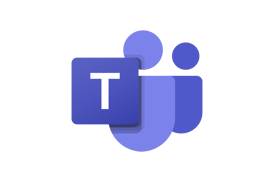 September: Tucking into takeaways
Off the back of the Government's Eat Out to Help Out scheme, we launched an 'Eat In and Help Out' scheme, allowing all staff to expense £20 towards the cost of a takeaway. It was one of several initiatives we ran during the year to say thank-you to staff and their families for their dedication during a tough year.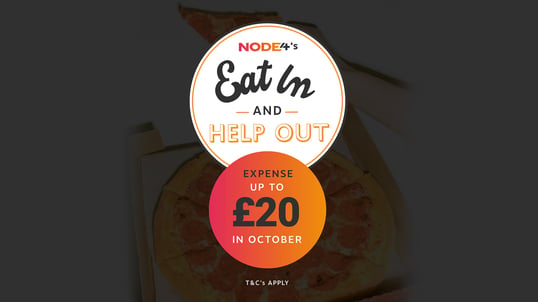 October: Celebrating long-serving staff
Over the summer and well into autumn, we celebrated several staff members who reached their 10-year work anniversaries at Node4. As well as sharing their stories on the Node4 blog, they received a choice of gifts and shout-outs on social media!
November: Ian Thomas shared his vision for service excellence
Ian Thomas, Operations Director and the latest addition to Node4's senior leadership team, joined our virtual business update to introduce himself to the entire business and set out his vision for the future of operations.
December: We held our first-ever virtual Christmas party
With large indoor gatherings off the cards, Node4 put all its efforts into a virtual version of our favourite annual event. There were lots of delightful touches – gift boxes in the post, an online escape-room-style hunt for CEO Andy Gilbert and a little magic to finish off the evening!