With an ageing population comes the challenge of continuing to provide a quality and enabled assisted living experience. Here's how technological advancements are helping.
Whether you're a housing association, care organisation or charity providing assisted living, you're probably familiar with this conundrum – meeting demand for services, while managing costs.
With an ageing population and the rise in chronic health conditions, demand is only going to increase.
The good news is that technology is making way for smarter, more responsive care and improved quality of life for assisted living residents.
The adoption of technologies that support a resident's health and wellbeing is key for assisted living providers who want to stay competitive, while providing a positive and facilitated experience for their residents and care workers.
It's no surprise that assisted living providers are looking to transform and digitalise their operations, with the help of technology that monitors, alerts, tracks and supports older and vulnerable communities.
We look at five areas where technology is changing the landscape of assisted living.
1. Security
The most forward-thinking assisted living providers are adopting technology like facial recognition door entry, IP CCTV and in-room activity sensors to keep their residents safe.
These technologies keep opportunists out and alert staff to any emergencies, such as a person falling out of bed.
Then there are location devices. Using GPS tracking and/or geofencing, such devices provide vital – often life-saving – tracking capabilities that keep your most vulnerable residents secure, while maintaining dignity.
As well as physical security, cyber security is constantly evolving. Assisted living providers are investing more in security technologies and processes designed to protect their networks against cyber criminals.
The growing trend is to partner with a managed service provider (MSP) who can provide the technology, people and procedures to keep their business-critical data secure.
"64% of UK businesses within the health and social care sector have an outsourced cyber security provider." - Cyber Security Breaches Survey 2019
2. Internet of Things
IoT-powered solutions are paving the way for delivering smarter care.
Wearables are one example that is increasing in popularity. These smart electronic devices are worn close to and/or on the skin, providing a versatile, low-key solution to continually detecting and monitoring activities of daily living, location and ambient room information.
Data is continuously collected and analysed using machine learning. By learning the routines of individuals over time, unusual behaviour is detected and the right person alerted. Assisted living staff and care workers can, therefore, respond earlier to what may be a developing condition.
IoT also refers to any device that has connected ability, such as smart meters and thermostats. These devices allow you to optimise energy distribution, and manage and automate your controls, while alerting you to any HVAC issues before costs start to spiral.
3. SD-WAN
The need for smarter, more secure connectivity is leading more and more assisted living providers to implement Secure SD-WAN solutions.
With 85% of organisations now operating in a multicloud environment, many are looking at networking solutions that can support this way of working.
Secure SD-WAN benefits:
Supports adoption of more cloud-based technologies and services.
Enables remote working, providing staff and residents with a faster, more secure experience wherever they are.
Gives IT teams more visibility and control over their networks.
Improves security (provided it's a Secure SD-WAN solution), with next generation firewalls at every location protecting against internal and external threats.
Free download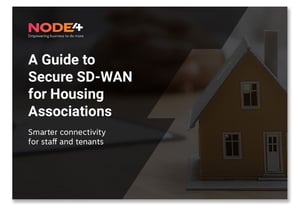 We recently worked with a local housing group who wanted more control over their network, creating the necessary infrastructure for an application-based space for tenants and advanced safeguarding protection.
4. Telemedicine
Telemedicine is a great way to proactively manage a resident's health using technology, without them having to physically see a healthcare professional.
It works through several channels, namely:
Video conferencing: Staff can speak to a medical professional for administrative/business purposes.
Remote monitoring: Residents' vitals can be monitored remotely through IoT data, for instance.
Computer literacy: Enables residents to educate themselves about their health through research.
Teleconsultations: Get diagnoses and prescriptions with limited trips to a healthcare provider.
5. Voice Activation
The rise of voice assistants, such as Siri and Alexa, has hugely impacted the way we live. And, for assisted living communities, voice activation technology can be life-changing for residents.
Actions that some people might take for granted, such as turning lights on and off, calling for emergency assistance and adjusting the television, are all made much simpler for vulnerable people.
Providing residents with the tools to perform tasks themselves empowers them and gives them back control, improving their assisted living experience. Voice activation technology can also boost the efficiency of care workers by removing some of the pressure of frequent resident requests and questions.
A solid foundation to build and manage such technological innovation is, of course, crucial. It's why many assisted living providers are striking up partnerships with MSPs who can offer them IT infrastructure and services, as well as technical expertise and innovation.
Learn more about how we're helping housing providers with their digital transformation journeys.